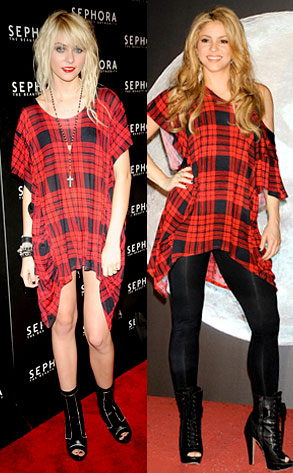 Taylor Momsen may not like wearing pants, but she is a fan of plaid.
And so is Shakira.
Both celebs recently rocked this plaid tunic to red carpet events.
While Shakira kept her lady parts covered and avoided any Britney-esque photo ops with black tights, Tay opted for a more risqué look.
What the Gossip Girl lacked in leg coverings, she added in accessories...
Tay added black leather bracelets to her look and a rosary necklace to boot. Because she totally looks like she's a good churchgoing girl, right?
Both babes paired their plaid number with mid-calf black boots.

Which style do you prefer?