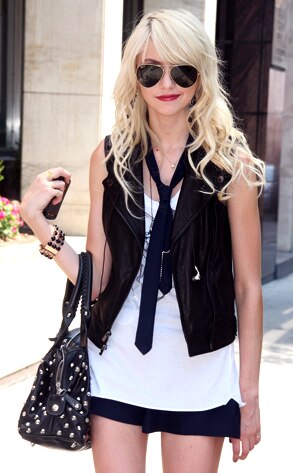 Who needs pants?!Certainly not Gossip Girl's Taylor Momsen, who's been spotted around New York City over the past few weeks wearing crotch-skimming hemlines, garter belts and a scowl.
Needless to say, the 16-year-old's risqué apparel has left the press, parents and fans in a bit of an uproar.
The starlet thinks they need to get over it.
"I don't care," she told E! News exclusively backstage at the
G-Star Raw fashion show
Tuesday night. "I think if everyone's going to be so upset about what I'm wearing, I'm like, well, maybe you should look at your life a little more. I don't know why you're so obsessed with mine."
To her, it's all about art.
"Music inspires me," she says of her clothing choices. "Fashion means everything. I mean, it's art. Art means everything to me, so fashion's another side of it. It's expression, it's music, it's a way of showing and really being who you are in your own way that no one can take away from you."
Still, people's reactions to her dress come as no surprise to her. To an extent, they're orchestrated.
"Everyone has an opinion," she says. "Why not make it a shocking one?"
eonline